Traditional divorce can be financially and emotionally draining on the couple because attorneys work against each other in litigation often leading to trial. In high asset cases and high conflict cases, it is common for couples to consult with competing experts to push conflicting agendas.   Many divorce cases become overly heated because the traditional process encourages concealment of information as opposed to transparency.
The Collaborative Divorce Team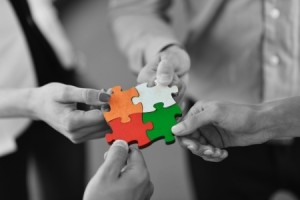 The Collaborative Divorce Team approach is more practical and positive because unbiased professionals, each contributing what they do best, work in concert with the couple and their attorneys towards resolution. All information is shared openly at team meetings with both spouses participating fully in decision-making, leading to an amicable outcome that embraces both sides.
The Collaborative process begins with each party choosing a collaboratively trained attorney to represent their individual positions.   Then the following neutral collaboratively trained experts join with the divorcing couple and their attorneys to construct a divorce plan that best serves both parties and any children.
Neutral Collaboratively Trained Experts
Coach Neutral:  Always a licensed counselor, social worker or psychologist, the coach is responsible for driving the collaborative process in a few central ways. They support spouses in asserting their individual interests, and then ensure that both parties are clearly heard and understood by each other and all team members. They also act as process facilitator to assure that meetings are efficient and productive, and as mediation facilitator to help the couple reach agreement on co-parenting and other issues that may be causing conflict.   Divorce is always stressful, and the coach is vital in helping the couple deal with difficult feelings – during and between team meetings — so that they can function optimally through the collaborative process and beyond.
Financial Neutral: The financial neutral is essential to the divorcing couple in several key ways.   They analyze the marital financial picture to predict individual expenses after divorce. They also confer with the couple on how their individual financial futures might look with various settlement alternatives. Additionally, they consult on child and spousal support formulation, tax planning, asset and debt allocation, property division, retirement planning, and any number of other financial issues.   The financial neutral can be instrumental in directing the couple to other financial professionals who may work with the couple in the future.  Money can be a source of conflict and confusion in divorce, and the financial neutral is critical in steering the couple toward creative and sound monetary solutions.

Other Neutrals: When a couple's issues are especially complex or need a particular expertise, additional neutral experts may be consulted.   A child specialist might be called on to provide advice on co-parenting a child with developmental challenges, for example, or an appraiser might be asked to assess the value of certain real, personal or business property.
For more information on the Collaborative Divorce process, we recommend the book The Collaborative Way to Divorce by Ron Ousky and Stu Web.
Ready to move forward? Click here to find a Professional and start the Collaborative process.